Have you ever heard of a frogfish?
It is one of the creatures we learned about while reviewing
What makes a Fish a Fish
which is one in a series of DVDs from a company called
Dive into Your Imagination.
It's founder, Annie AKA "OCEAN ANNIE" has become one of America's leading ocean-environ educators.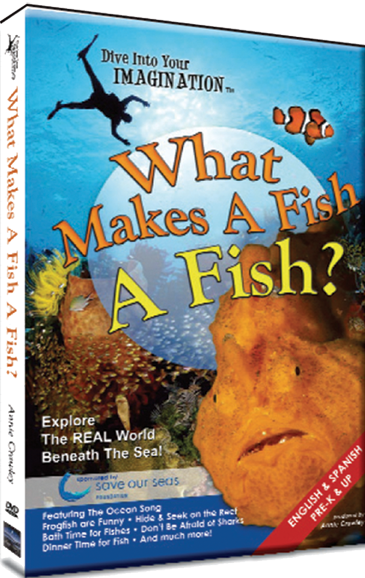 What Makes A Fish, A Fish
is the first DVD in the Dive Into Your Imagination series. This DVD teaches children about astounding fish from around the world. In 2008 it won the Greatest Products call from iParenting Media Awards!
We were sent the DVD and given access to the PDF Educators' Guides. The DVD has 8 main chapters including Sea Anemones and Their Friends, Bath Time for Fishes, Frogfish are Funny Looking Fish and Dinner Time for Fish. and a couple of bonus tracks explaining scuba diving and production.
When we watched it the first time the kids were fascinated by the Frogfish so I decided to use the teaching guide to develop a whole lesson around this funny looking creature. The lesson plans are well laid out easy to follow and can be adapted to meet the needs of your kids. They include background information about all the topics presented on the DVD and many activities to use with each topic which cover math, language arts, social studies and science.
For each of the chapters on the DVD, there is a chapter in the educator guide of the same name. Within the educator guides, you can choose from 6-7 activity stations per unit to share with your children. Both sets of guides, PreK-K and 1st-3rd Grades follows the same framework with age appropriate activities so if you download both sets you can choose your favorites. I was given access to both the Pre-K to K guide and the 1st to 3rd grade guide. I used both to prepare a fun day for all 4 kids. ( yes the almost 2 yr old also joined in. )
Here are some highlights from our FrogFish Day:
our Frog Fish Board
Checking out where Frogfish can be found around the world
Making their own Frogfish
Even Marcus joined in!
our diverse Frogfish
completing a language arts worksheet
Frogfish math
playing a frogfish memory game
catching fish like a frogfish!
As you can see, we had a great Frogfish Day! It was easy and fun to put together and as usual, I learned a lot too!
Other titles in the series are
Who Lives in the Sea
and
Dive into Diversity.
The are available at
Diveintoyourimagination.com
. Each DVD is priced at $19.95.
It is important to note that the Educator guides are separate and are available as a printed version for $299 (for the whole set) or as individual PDFs for $69.95. But check this out:
"As a special for the Homeschool Crew and The Old Schoolhouse Magazine and followers Annie Crawley of Dive Into Your Imagination, she will gift you a set of PDFs with purchase of the DVDs. When you place your DVD order, just let her know in the notes that you are a Homeschool Parent!"
In order to obtain these 300 page information packed guides, just mention
"homeschooler"
in the comment section at checkout after you have added the DVDs. That's a good deal! There is even free shipping for the month of June!
See what other reviewers had to say
here.
Disclaimer: As a member of TOS crew I received this product in exchange for an honest review. All the opinions expressed here are my own.