We had the opportunity to review
Kinderbach
. As you may guess from the name it is a music program... one designed to teach three to seven year olds to play the piano. I found it to be that and more. It not only teaches the mechanics of playing the piano, it also sets the foundation of music theory.
About the program:
There are 6 levels, broken down by weeks (60 weeks total) and each week has four lessons. Each lesson takes less than 10 minutes and there is very little prep required (printing worksheets when required) and the student can move through the lessons at his or her own pace.
Fun characters, singing, activity sheets and movement are a part of each lesson.
The songs are catchy (I find all 3 kids singing or humming them through out the day.)
The
characters
are fun and all have a story to help the student learn the names of the notes. For example,
D
odi is a
d
onkey who lives between the two black keys... and you guessed it.. that key plays D!
The activities are well thought out and help to reinforce the concept that is being taught. The activity book is available as a download and we have just printed each sheet as we need it.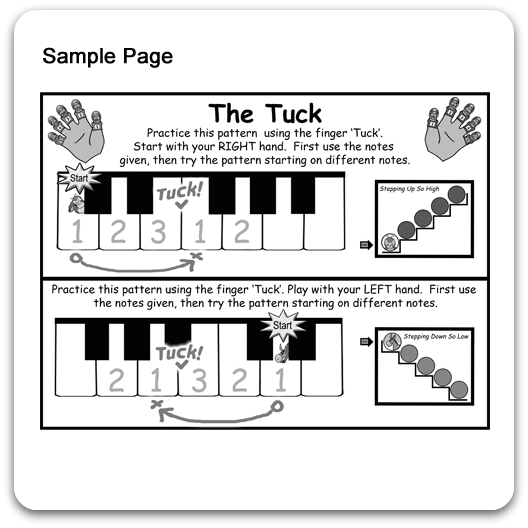 The program is available online, or as a set of DVD's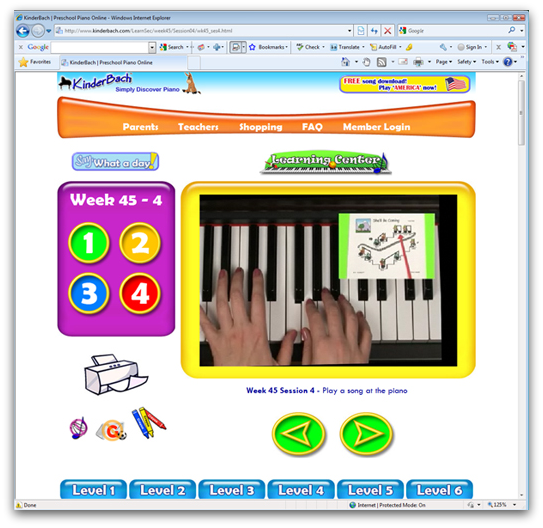 An online subscription provides access to all web lessons by computer (iPad, Android Tablet, Kindle Fire or Nook accessible as well)
$7.99 a month - Billed in a one time annual payment of $95.88
(Great Value! Save 60%)
or
$19.99
monthly subscription - Billed monthly for a year
(12 separate payments)
The DVD's are about $40 per level but are also available as value package bundles.
Our experience:
We are blessed to have Grandpa Furbert as the kid's music teacher. He is currently teaching Micaiah, Eli and Eden to play the recorder and Micaiah and Eli the piano so when we were given Kinderbach to review, I chose to use it with Eden (she wants to play the piano like her big brothers).
Eden completing a colouring page to reinforce finger numbers
playing her homemade rhythm instrument along with the teacher
Eden has enjoyed the lessons. In the beginning she would lose interest after one lesson but as we have progressed she sometimes wants to do 2 or 3 lessons at a time. She enjoys completing the activity sheets and is understanding rhythm better as well. We will definitely be continuing the lessons for the remainder of our review period and I would recommend the program to anyone who wants to give their 3 to 7 year old a good solid start in music.
moving on to the piano
KinderBach is an instrument-based program so you
do need to have a piano or keyboard available for the lessons but it doesn't have to be an expensive one..
one
with 3 to 4 octaves (36 to 48 full sized keys) and no bells or whistles necessary.
Go on and check out the
website
and even try the
first few lessons for free!
Read
here
to see what others think of Kinderbach. If you try it let me know what you think!
Disclaimer: As a member of TOS Crew review team, I was given a short term subscription free in return for my honest (positive or otherwise) opinion of this product.