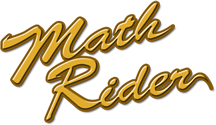 For the past month we have had the opportunity to review a
math facts game
called Math Rider. Understanding addition, subtraction, multiplication and division, and knowing all fundamental math facts is necessary for higher level math. It is important for the kids to be able to memorize these. Before starting this school year Micaiah was having some difficulty with this but over this year, with constant practice I can see improvement. Math Rider has thus been great reinforcement and an opportunity for both Micaiah and Eli to practice and gain confidence in this area... while having fun!
So what is
Math Rider
? Here is an explanation from their website:
Your child is taken into a land of fantasy and quests. Living in the Land of Ray and riding a horse called Shadow, he or she will set out on various noble adventures. Riding across amazing, digitally matte-painted moving backdrops of distinct fantastic lands, they will accomplish their quest, be it finding magical flowers, returning gems to the elves or even rescuing a princess!

Each operation (addition, subtraction, multiplication and division) contains four quests, ranging from easy to master.

The four quests are the same across the four operations, however, the rewards are not. Every combination of quest and reward holds a different reward. The rewards are all animated according to how well the player answered the questions.

All rewards are displayed on the main screen of the game. In this way there is a direct feedback and incentive for your child to do as best as they can.
What I like:
It is exciting. Micaiah was hooked on the game immediately, often asking to play Math Rider and never complaining when I asked him to. Eli was a little less enthusiastic but also never complained when he was asked to play it.
The game is designed intelligently. The game learns what the rider knows and what he or she still needs to practice. The pace of the game adjusts to each player. This was important for Eli who gets easily frustrated if something is too fast.
It is uncomplicated. In order to play the child simply types in the answer and presses enter, thus they can focus on the math rather than how to actually play the game. The each level of the game, apart from the final mastery level, focuses on a single operation so the child is not getting confused between operations.
It can be used for more than one child. Every person creates their own rider, and the game tracks each rider's progress and unique practice results individually. The license you purchase is for up to 8 players.
Feedback. As the parent you can see very easily your child's progress. The feedback includes a overview map of mastery for each number table so the parent and child can easily see what they have mastered.
This is a great program for homeschoolers and non homeschoolers alike. It is a great way for your kids to memorize the important facts and gain confidence in math! And you won't feel like you are pulling teeth!! (Do you remember learning multiplication tables with flash cards... BORING!)
There is a free trial available which will allow you to try out the full program. The program is compatible with both Windows and Mac Platforms and is
currently on sale for $37
until February 15th. The regular price is $47 which I think is a great value considering that it is a one time purchase that can be used for up to 8 players and can be installed on up to 3 computers. One thing to note is that it is not played in an online environment, so if you start a quest on one computer you can only access your progress on that computer.
Finally, what did my riders have to say about Math Rider?
Micaiah after completing his first division facts quest.
Knight Micaiah: "I like it because I get to learn math and it helps me with my other math programs. It is very fun because I like horses and I love math!"
Builder Eli: "It's good and helps me learn and it is fun!"
Disclaimer: As a member of TOS Crew review team, I was given short term access to the program in return for my honest (positive or otherwise) opinion of this product.