Wow! how did it get to be December already?!
I was really excited to come across an e-book this week called "
Truth in the Tinsel
" written by
Amanda White
of
impressyourkids.org
.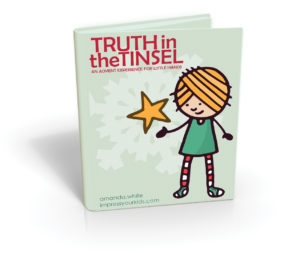 Before I found it I had been planning to use the
Jesse Tree Devotional
we used last year as a countdown to Christmas. It is a great devotional but a little over the kids heads. I did a lot of paraphrasing last year and I wasn't sure how much of it they absorbed.
This e-book however was written with younger kids in mind and so far has proven to be just what we need. The book provides a scripture reading and instructions for making an ornament for each day of December leading up to Christmas.
There are little clue cards that I printed on the back of patterned paper and have strung up across our mantle. Each day for our Truth in the Tinsel time, the kids turn over the next clue and try to figure out what the word of the day is.
As I read the scripture the shout out the word they think as I read it. For example, day one's clue was a candle. The scripture reading talked about the Saviour being a light. Each time I read the word light, they shouted out light. They love that part as I am usually telling them NOT to shout things out. After we read, I talk to them about the key word and introduce the craft of the day. While they are making the craft we have a discussion about the meaning of the scripture, its relationship to Christmas and any lesson we can learn for our own lives. So far the whole process has been a hit... for the kids, and for me! The crafts are easy to prepare and to put together, the devotional is simple and easy enough for Eden to understand but challenging enough to also keep Micaiah's attention.
Here are some pictures from our first 3 days:
Candle ornament- Jesus is our light
Busy at work
Crowns: Jesus is our King
Zechariah with a bubble mouth that the kids popped (to symbolize God making him unable to speak).
Do you have little kids? Go and check out
Truth in the Tinsel
. It's not too late to jump in. Amanda provides alternate schedules for those that can't or don't want to make all 24 crafts.
Stay tuned for more!