What I love about Homeschooling: Reason No.2
One of our decisions to homeschool involved being able to teach and reinforce biblical standards in our children on a constant basis. Starting when Kai Kai was a baby, we have daily read and studied God's word with the kids. Serving Jesus Christ is not just one small piece of our family, but it is the life that we aim to live. We are far from perfect but it is our intention that we raise our kids to know and love God and to know that is possible to have a meaningful relationship with the Creator of our universe!
The Bible tells us in Ephesians 6:4 to " bring them up in the training and instruction of the Lord" and one of my guiding verses since I became a parent has been Deuteronomy 6:5-9
"Love the LORD your God with all your heart and with all your soul and with all your strength. These commandments that I give you today are to be upon your hearts. Impress them on your children. Talk about them when you sit at home and when you walk along the road, when you lie down and when you get up. Tie them as symbols on your hands and bind them on your foreheads. Write them on the door frames of your houses and on your gates."
This is what God commanded the Israelites... it was and still is the parent's responsibility primarily to pass on the faith to the next generation. Church programs are good but I feel strongly we can not depend on an hour at Sunday School and maybe an hour at Friday night youth group to meet the spiritual needs of our children. Thus my second reason for loving homeschooling is that we can infuse the love of God and Christian values into everything we teach our kids.
I want to be intentional about building biblical character in my kids and at the beginning of our homeschool journey the Lord laid Philippians 2: 14 & 15 on my heart:
Do everything without complaining or arguing, so that you may become blameless and pure, children of God without fault in a crooked and depraved generation, in which you shine like stars in the universe.
I started talking to the kids about being shining stars and how our behaviour and attitude reflect what is in our heart. All through the day I can do an attitude check with the kids and ask them if they are shining like stars... I do this whether they are exhibiting good or not so good behaviour so they themselves can begin to recognize the difference.
Imagine my excitement when I read this
blog post
by Carisa at 1+1+1=1. Like me Carisa saw the need to be intentional in teaching her children to shine like stars...as she put it
"I want them to learn to stand firm on the foundation of Jesus Christ-the SOLID ROCK and shine for the world like BRIGHT STARS for HIM
!!!!" She has started a weekly blog posting to highlight what she's doing each week to accomplish this goal. She has invited others to join her so I am jumping in! As I link up with other mom's around the blog world I hope that I will learn even more and find inspiration for making this Christian walk exciting for my 3 little Rock Stars!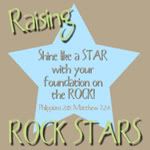 Bible Lessons

The curriculum I am using for LiLi has a Bible portion which they use to tie in Science, social studies and language. Instead of doing 3 different things with each child, we start each day going through this bible portion of the curriculum. We are currently moving slowly through creation. For the last month we have studied Genesis 1:1 - 5 & John 14 and covered such topics as:
God is our father
God is ever present
the concept of the trinity
Jesus is in heaven preparing a place for us
God made light
the opposite of light is darkness
Light is important for all living things
Light causes shadows
when God made light he made it so it will reflect off certain objects
Light is beautiful and God said it is good
...you can see the science emphasis woven tightly with the Word of God! We have had fun exploring all the aspects of light, measuring shadows, reflecting the sun onto a wall using an old CD, planting black eye peas in a clear plastic cup and watching them push out roots and stems (so many spiritual implications!) As we move through the 7 days of creation I can't wait to see all the fantastic things we will learn.
Scripture Memory
The verses they have been learning are Gen 1:1 and Gen 1:3... the kids have always loved scripture memory and even Buttercup can recite these!
This week I also downloaded
Songs for Saplings
(scripture set to music for each letter of the alphabet) and I am tying in LiLi and Buttercup's letter of the week. Since we are on letter F this week, we are also learning Prov 17:17 a friend loves at all times.
Kai Kai has joined the
Word of Life Olympian Club
at our church, so we use this time to memorize the motto and pledges he needs to learn in order to become a member in the program.
Prayer
My next step is to start a family prayer journal with the kids so they can start to see how God answers our prayers. I am sure in years to come it will be awesome to look through and see how God takes care of our family.
Quiet time
They continue to have Quiet time in the morning with daddy and look forward to that time before he goes to work.. they use the
Word of Life quiet time diary
which I would highly recommend to anyone with young kids wanting to get them in the Word on a daily basis.
Reinforcement
I have a blank wall in the classroom that I have been wondering what to do with, so I think I am going to decorate it with a star theme to remind us to be shining stars and to remind me when I get weary that I truly am raising ROCK STARS!!!
click here
to find out how others are Raising Rock Stars.