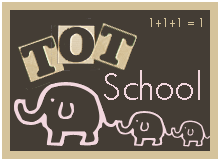 It seems that Tot School and Preschool are rolled all into one in our house... with LiLi and Buttercup so close in age, they like the same activities and each wants to do what the other is doing. I am trying to put together tot school activites that I can make a little more challenging for LiLi but still fun for Buttercup. In addition to gross and fine motor skills, we work on a letter, shape and colour to encorporate LiLi's preschool program.
Here is a look at some things we did for the past 2 weeks...
We use a perpetual calendar I put together using printables from
Sparklebox
and each day we go over the "Seven Days" song and the "Months of the Year" song as we change the pieces of the calendar.
(note the picture is from a few weeks ago:)
For our bible lessons we were talking about God creating light and for science we covered various topics related to light. The day we talked about shadows I snapped this picture of us while we were on a walk.
We worked on the letter F-
Finger painting...
Fishing for letters. (I froze small magnetic letters in ice cube trays and then floated the ice cubes in water) they had to say the letter the "caught"...
feeding the fish...
Letter jumping... (write letters in chalk and let them jump on the letter I call out- for LiLi I will say a word and he will jump on the letter it starts with).
I made up a Fish game for them by printing out several cards with different fish on them and some blank cards. Turn them all over and spread them out and take turns "fishing" for a card. The person that ends up with the most fish wins... we all enjoyed that game.
The colour of the week was
yellow
We went on a colour walk to identify things that were yellow (don't ask about the hats and boots, it was a case of monkey see monkey do!)...
yellow colour hunt... I put several items in a jar and Buttercup pulled out the yellow things and put them in her basket.
for fine motor skills they put spagetti through the holes in a spice jar.. this one kept their attention for a while.
I also had them thread pasta onto a ribbon.. for LiLi I added a twist...he had to count the number of dots on each piece and put them on the ribbon in order.
I used
these whole fruit and half fruit printables
from "Montessori for everyone" for LiLi to match the whole fruit with it's half. Then we played a memory game with the cards so Buttercup could join in.
Writing in cornmeal (although Butttercup found it more fun to throw it all over the place:)
We had great family time too! Daddy took us on a nature walk... it's always great when he can join us!