I like to cook. It's not my favourite thing but I do get a certain enjoyment being in the kitchen. The one thing I hate is deciding what to cook. Especially when pressed for time or when 3 hungry kids are asking "what's for dinner?"
One thing I do like to do is entertain although having had 4 kids in 6 years I have had very little time to do so. When I entertain I like to plan out a menu, get creative and then spend time preparing food so that my guests can have an enjoyable culinary experience.
One day as I was throwing together something entirely uninspired with very little thought, completely out of necessity for my hungry brood, I started thinking... these 5 individuals that I share my life with are the most important people in my life. If that is the case, they deserve the same thought and care when preparing their meals that I give when I am entertaining. Now don't get me wrong... I do put thought into what I am feeding my family, making sure it is a balanced meal, trying to find things that they like, but sometimes the attitude behind cooking for them is "Oh, this is such a chore". Right then I knew they deserved better... I had to bring the joy back into feeding my family.
The most important thing I have to do in order for this to be a joyful experience is that I have to be organized. At the beginning of each month, I have been making a list of 20- 25 meals that I want to make. Some are my basic, old faithful recipes like chili, chicken fried rice, BBQ chicken, spaghetti, but others are new recipes that I want to try. I have some cookbooks that I may look through from time to time but most of my new recipes come from the internet. I have a few trusted sites that are my go to recipe sites like The Pioneer Woman (PW), Brown Eyed Baker, A year of Slow Cooking (Crock pot recipes) to name a few. Before I grocery shop each week I look through my list and make a menu for the week. What I choose will depend on what activities we have planned and how much time I will have to prepare each meal. Once I use a recipe on the list, I cross it off and make a note of the result. If it is a winner I put it on the list for the next month. I have recently been ranking the meals depending on how many thumbs up I get from the family. Each person gets one vote so until Marcus can participate a winning meal gets 5 thumbs up. I am happy when it is at least 3 thumbs up but it makes the do again list if it is at least 4 thumbs up.
Another important thing is that the recipes have to be fairly uncomplicated... I like a challenge but with 4 kids running under my feet (well... 3 running, 1 crawling) it has to be something that isn't going to add to my level of stress! They also have to be economical. Healthy is good too although I have a weakness for anything with cream and butter.. I'm a Paula Deen kind of girl!!
Once my fridge and cupboards are stocked with the necessary ingredients, menu is planned and recipes are printed, I can then exhale and enjoy the task of feeding my family.
I'll try and share more about my adventures in the kitchen each month, the recipes that worked and the ones that didn't but for now, what about you? How do you plan your meals? What are some of your go to recipe sites? Please share... I am always looking for new things to try!!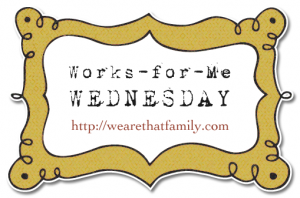 Linking this to Works for Me Wednesday at We Are That Family... head over to see what great tips others have.
Happy cooking!